Working With Zawadski Homes
Building A Zawadski Home
Our design professionals will meet with you several times before starting the design process.  We want to get to know you and learn your family's needs.  At each step of the design process, we guide you through the necessary decisions.  You'll choose from a wide range of selections that fit your style perfectly.  Designing your new home with us will be a memory you'll cherish.
Making your home dreams come true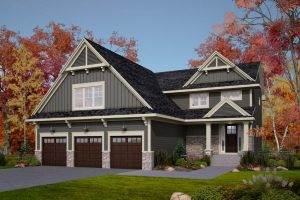 You can know what you want, you may instinctively feel it, but to make it reality, you need someone with the expert knowledge to do so. Someone who can bring a dream to life.  Zawadski Homes has been bringing dreams to life for almost half a century.  The entire Team at Zawadski Homes share extensive backgrounds in design, construction and development.
Finding the perfect neighborhood
While Zawadski Homes has available lots in Shoreview and Lake Elmo, these lots may not suit your needs. Let us be your guide at finding the perfect location for your home.  Whether you're looking for a lake lot in the Twin Cities or an expansive acreage lot in the country, we can find the perfect neighborhood for you.
Choosing the perfect elements

Let us show you our plans, or we can simply design from the start. With over 40 years of design experience our team will help bring your dream to life.  Our clients really enjoy describing the home of their dreams to our architect and then watching the home come to life.
Building your dreams
We are proud of our long-standing relationships with many of the Twin Cities' finest subcontractors, suppliers, distributors and manufacturers. Clients can be confident that the materials and products used in their new home are the very best, from the industry leaders trusted by Zawadski Homes.
Building a custom home can feel overwhelming.  We work hard to make every step of the process comfortable and enjoyable.  We've helped hundreds of homeowners build the homes of their dreams.  We've seen just about every scenario and we bring that experience to bear on your home.  When you walk in the front door of your new house for the first time, it will feel like it's been your home forever.